Welcome
TLC Home Health of Ohio, Inc. is a privately owned home care staffing agency dedicated to providing personal, individualized care to clients at any time in the privacy of their home. We are accredited by Community Health Accreditation Program (C.H.A.P.) which means our staff members adhere to a set of quality and performance standards and are always working to better our services provided.
TLC Home Health of Ohio, Inc. conducts background screenings on all employees at the time of hire. Educational programs are given on a monthly basis, keeping our staff competent and informed of new changes in the health care field.
Our goal is to provide the public with the most dependable and capable professionals available. We believe each client has the right to be treated with human dignity and respect regardless of race, color, creed, gender, national origin, handicap, sexual orientation, age, marital status, status with regard to public assistance veterans.
TLC Home Health of Ohio, Inc. will accept Medicaid Waiver, private insurance, private pay, passport and BWC.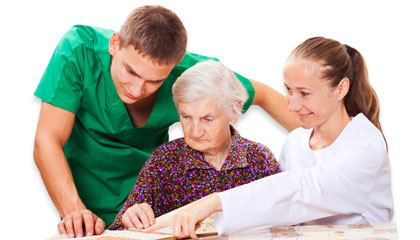 Our Philosophy
The staff of TLC Home Health of Ohio, Inc. will to the best of their ability, provide quality health care, which promotes the dignity and independence of consumers, and to allow family members to remain together as long as feasible while maintaining a normal lifestyle as possible.
The health care team is made up of Registered Nurses, Licensed Practical Nurses and Paraprofessional staff. Together, they use a systematic approach to the process of individualized care planning and delivery. Medical necessity determines the type and frequency of the service delivered.
The health care team focuses on providing comprehensive, coordinated services necessary to achieve optimal functioning, and will provide the highest performance, cost efficient health care in the consumer's place of residence.
Skilled professionals and paraprofessional staff are encouraged to insure their own mental and physical health in order to recognize and act upon consumer needs. Further, the staff is supported in their pursuit of education and networking to assure competency and capability. Employment opportunities are provided in a fair, safe, and professional business atmosphere with equal opportunity for all.
Nothing Found
It seems we can't find what you're looking for. Perhaps searching can help.